Cincinnati's Best Smart Home Security Systems
Stop break-ins, burglaries, and other unforeseen events and get total control over all aspects of your house, from the thermostat to the video footage.
*FOR A LIMITED TIME, NEW CUSTOMERS CAN RECEIVE A FREE VIDEO CAMERA OR DOORBELL (UP TO A $249 VALUE)!
*New residential customers only. Cannot combine offers. Monitoring agreement required. Some restrictions apply.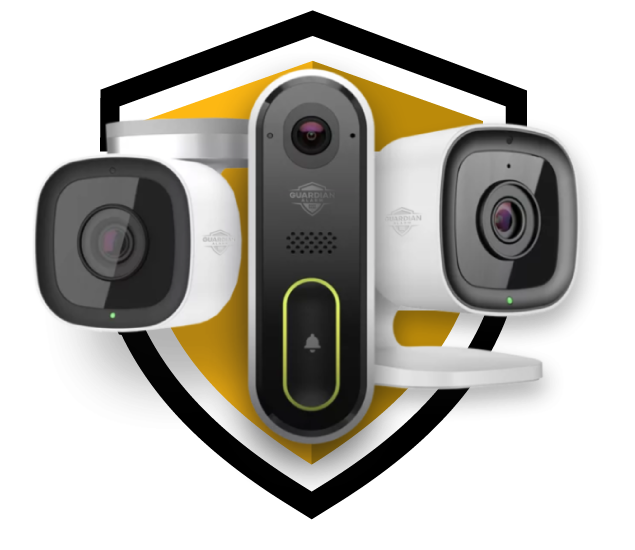 Contact your Cincinnati
security experts
Call 833.243.5645
To start protecting you, your family, and your home, call Guardian Alarm today or fill out the form.
Over 90 years of trusted service
Bonani R.
★★★★★
Just started with ESC and they've been very responsive and on top of things so far! And great pricing - way better than what we had before. Thank you! Highly recommend!
Pamela L.
★★★★★
Eric was efficient and friendly. I'm glad Guardian pinpointed our issue
Diane H.
★★★★★
Had an evening problem and Guardian Alarm walked me through a remedy until the repair man arrived.
Lois M.
★★★★★
Very professional and efficient technician and office staff. The response time and available supplies on the truck was comforting. No mess!
Chris B.
★★★★★
Nice equipment and good monthly price.
Matt B.
★★★★★
Excellent service and very effective!Cullen Patterson and team are excellent to work with!
Donna S.
★★★★★
They are reasonably priced and quick to respond. I am lucky to have this company for security. We also recommended them for a life alert system for my Dad. A better contract and price than any other provider.
Cindy B.
★★★★★
Working with this company is awesome. We have had this alarm system many years and recently upgraded to the newest camera systems. We have worked through all the technical issues of network extenders etc. They have exceeded my expectations always on time and very helpful. Took the time to explain all the features of the system. A great shout out to A.J, Arman and Jose. Few days later we were refining our system and Imani was soooooo good. She helped us understand and never left us until all was settled we appreciate her patience and knowledge of the system. Highly recommend guardian alarm.
Margaret E.
★★★★★
Thank you so very much for responding to my concern and for so professionally resolving my concern and your willingness to Navigate my concern and to make me a Continued Guardian Consumer!!!!! This is appreciated beyond words!!!!!!!!!!
Guy P.
★★★★★
Up grade to Wi-Fi.
Serving Cincinnati and the surrounding area
Cincinnati Office
6222 Wiehe Road
Cincinnati, OH 45237
Protection for your neighborhood and beyond
Golf Manor
Amberly
Aberdeen
Amelia
Batavia
Bethel
Blue Ash
Bridgetown
Camp Dennison
Chilo
Cincinnati
College Corner
Decatur
Deer Park
Dry Ridge
Dry Run
Fairfield
Fayetteville
Felicity
Forest Park
Forestville
Franklin
Georgetown
Goshen
Greenhills
Hamersville
Hamilton
Harrison
Harveysburg
Higginsport
Hooven
Kings Mills
Lebanon
Loveland
Mack
Madeira
Maineville
Marathon
Mason
Miami Heights
Miamitown
Miamiville
Middletown
Milford
Monroe
Morrow
Moscow
Mount Orab
Mount Saint Joseph
Neville
New Richmond
Newtonsville
Northbrook
Norwood
Okeana
Oregonia
Owensville
Oxford
Pleasant Plain
Reading
Ripley
Russellville
Sardinia
Seven Mile
Sharonville
Somerville
South Lebanon
Springboro
Springdale
St. Bernard
Terrace Park
Trenton
Waynesville
West Chester
White Oak
Williamsburg