The latest security cameras
Home video security systems and cameras
Keep your eye on everything around your home with the latest in security cameras and home video security systems. Professionally installed and maintained by Guardian Alarm, home security cameras are the first line of defense to help deter crime. Stay aware and receive mobile alerts of activities like deliveries at the front door, people loitering around your home, and more.
Security cameras
Security cameras and the latest video technology create that first line of defense you need for your home. You can see your package deliveries, keep watch of your front porch or driveway, see when your children arrive home, and more from anywhere. Plus, our team of experts will work with you to place cameras in the best spots so will always know what is happening around your home. We will then install, test, and maintain your home video security system to provide you with peace of mind for years to come.
Indoor Cameras
Outdoor Cameras
Security Panel Camera
Stay aware of all activities going on inside your home with motion-activated indoor cameras. While you can watch footage from anywhere on the MyGuardianAlarm mobile app, you can receive personalized alerts from your kids coming home from school to your pets getting into certain things they're not supposed to.
Detecting the first signs of a threat has never been easier with outdoor cameras. Before a burglar attempts to break into your home or car, you'll receive a mobile alert the moment your cameras detect their presence. Plus, you can even scare them away using two-way voice communication from your panel or mobile device.
Get the latest camera and video technology right from your built-in security panel camera. Featuring an 8MP camera, you can customize various features, such as disarm photos with facial recognition, adjusting the camera angle with FlexTilt, watching up to four minutes of on-demand video footage, and more. Call today.
Create your customized alarm system
To create your customized alarm system with features like security cameras, mobile system access, and more, call today for a free consultation.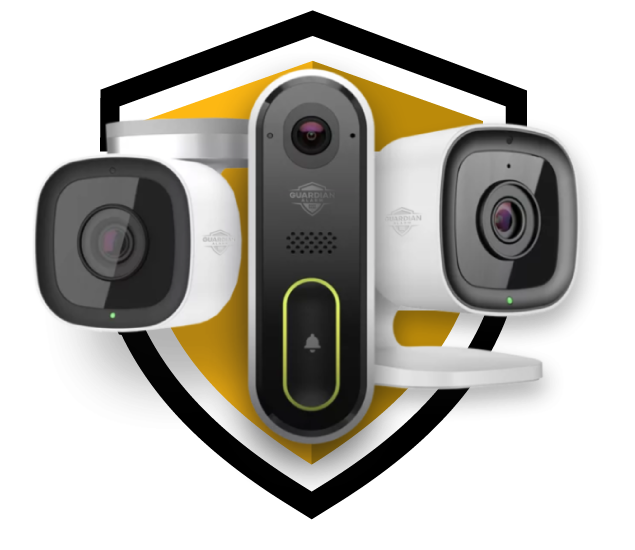 MyGuardianVideo
MyGuardianVideo makes it easy for anyone to monitor high-resolution security cameras through a desktop or any connected mobile device. Start your journey with this video solution and continue adding features to create a customized security system for your home. Plus, MyGuardianVideo comes equipped with the latest video analytics to detect people and filter out nuisance activity, such as rain or shadows.
01.
Get Started Today
To get the most out of your home video security system, and to take advantage of our professional installation services, call today.
02.
Professional Installation
Our professional security installation is a local, trusted, and convenient service that Guardian Alarm takes pride in providing to all our customers.
03.
Securing What Matters Most
Since 1930, Guardian Alarm has provided business owners with local, monitored security solutions for businesses of all sizes and industries.