Cleveland's Best
Security Monitoring Systems
Guardian Alarm is the trusted source for countless families and business owners looking for a home or commercial security system in Cleveland.
*FOR A LIMITED TIME, NEW CUSTOMERS CAN RECEIVE A FREE VIDEO CAMERA OR DOORBELL (UP TO A $249 VALUE)!
*New residential customers only. Cannot combine offers. Monitoring agreement required. Some restrictions apply.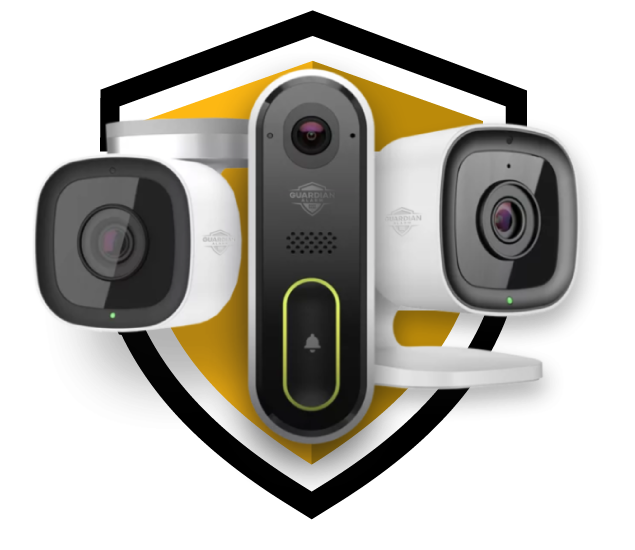 Contact your Cleveland
security experts
Call 248.849.9994
To start protecting you, your family, and your home, call Guardian Alarm today or fill out the form.
What is the Guardian Alarm difference?
Where you can find us
Cleveland Office
9775 Rockside Road, Suite 200
Cleveland, OH 44125
Protecting your neighborhood and beyond
Amherst
Avon
Avon Lake
Berea
Burton
Chagrin Falls
Chardon
Chesterland
Columbia Station
Elyria
North Ridgeville
Gates Mills
Grafton
Grand River
Huntsburg
Kipton
Lagrange
Lorain
Sheffield Lake
North Madison
Mentor
Middlefield
Montville
Newbury
North Olmsted
Novelty
Willoughby
Eastlake
Cleveland
Lakewood
East Cleveland
Rocky River
Euclid
Cleveland Heights
South Euclid
Shaker Heights
Mayfield Heights
Garfield Heights
Fairview Park
Parma
Parma Heights
Seven Hills
North Royalton
Strongsville
Maple Heights
Olmsted Falls
Solon
Bay Village
Brecksville
Brook Park
Richmond Heights
Oberlin
Bedford
Broadview Heights
Brunswick
Chippewa Lake
Hinckley
Homerville
Westfield Center
Litchfield
Lodi
Medina
Seville
Sharon Center
Spencer
Valley City
Wadsworth
Painesville
Parkman
Perry
Thompson
Wellington
Wickliffe
Brooklyn
Westlake
Over 90 years of trusted service
Melanie H.
★★★★★
Excellent service. Excellent technician!
Deywain R.
★★★★★
Everything was great you got my system back up and running great.
Overjoy O
★★★★★
I had 2 techs come out today , Payton and Ryan they both did an excellent job , good works and very helpful, I recommend them to anyone , whom need great service safety is the key ,and they both were concerned about safety , and I appreciate the service I received , today,And thank you guardian
Response from the ownerThis is what it's all about! Thank you so much for sharing.
Bonani R.
★★★★★
Just started with ESC and they've been very responsive and on top of things so far! And great pricing - way better than what we had before. Thank you! Highly recommend!
Response from the ownerI am glad that we were able to take care of your security needs in such a prompt manner. We always try to design a great system that will fit into our customers budget. Thank you for your business.
Rick R.
★★★★★
Very happy with my experiences on responses to alarms and answering all questions
Response from the ownerHey, Rick! We appreciate the feedback. Thank you.
Doug H.
★★★★★
As the one of the owners of Executive Security Consultants, I have to say that our company would not be able to give the personal service that we do without hard working employees. Carol Brown had been with our company for over twenty years. She and my wife Sandy are the heart of the company. Chris Ellis is our worker bee technician. Chris is kind, caring, and passionate about what he does. He is our tech guru and our go to guy. Evan Kimes is Chris's right hand man and supports Chris any way he can to insure that our customers are happy. Katelyn Starr is our newest employee. Kate is everyone personal assistant. We ask a lot of her. She is my social media specialist Sandy's technology specialist, helps Carol with the billing and supports guys in the field. Without this outstanding team we would be just another alarm company. Thank you everyone for all you do to make our company great.
Leslie S.
★★★★★
The technician walked me through the process of rebooting the alarm very patiently, and saved me a $98 service call.
Response from the ownerWe're happy your alarm was rebooted, Leslie! Thanks for reaching out.
Kendra W.
★★★★★
Have had my system several years and it has been reliable. Pleased with the service.
Reginald P.
★★★★★
We had an issue with our church's alarm system. I contacted Guardian and they got a tech out to us. The needed maintenance work was completed and we are safe and secure again. Thanks Guardian!
Response from the ownerWe're happy to see that you are back up and running again. Thanks for sharing!
Bethany D.
★★★★★
Very efficient and quick when needing
Response from the ownerHi, Bethany! We're happy to hear that you had a good experience. Thank you for the 5-star review!